Formula 1 Limited Edition Protein Shake Pineapple Coconut 550 g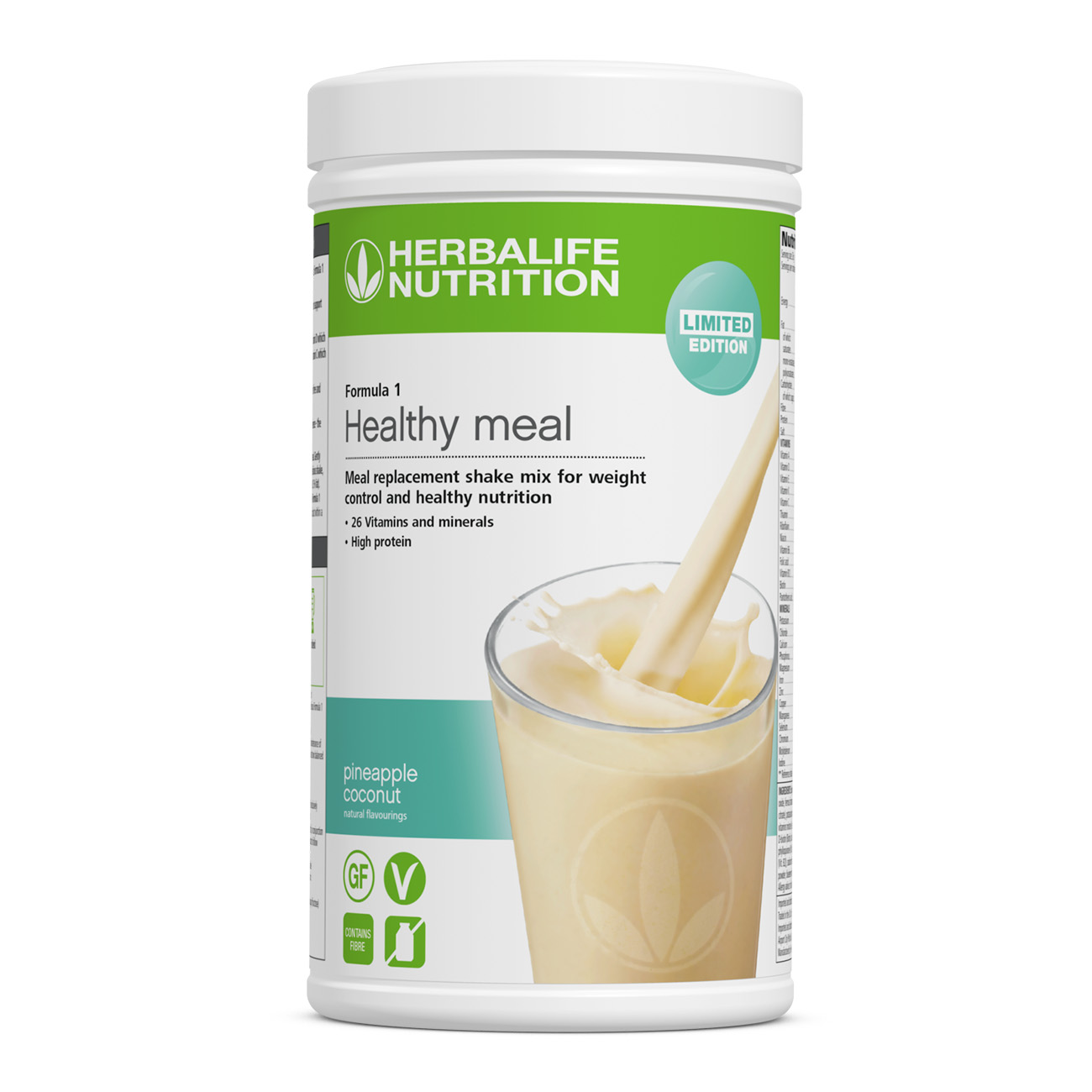 SKU 224K
Recommended Retail Price € 49.10
Product Overview
Bursting with exotic flavours, the NEW F1 Pineapple & Coconut tastes like summer in a glass. Bring some sunshine vibes to your morning shake with this limited edition F1 flavour.
F1 Pineapple Coconut Limited Edition is a healthy meal replacement shake, high in protein that supports the maintenance and growth of muscle mass, and it is balanced with vitamins and minerals plus fats.
Key Features and Benefits:
High in protein
Made with high-quality soy protein, fibre and vitamins & minerals, Formula 1 offers both great nutrition and convenience. 
F1 Limited Edition Pineapple Coconut is a vegan friendly and a dairy-free shake whenever you prepare with fortified soy beverage or PDM Vegan and water. 
F1 Limited Edition Pineapple Coconut provides at least 30% of your daily intake of 26* vitamins and minerals per serving. 
Get the nutrients your body needs**, while staying committed to your preferences or diet requirements.
Contains no artificial colours or flavourings.
A nutritious healthy/balanced meal with a combination of what your body needs: protein, carbohydrates, vitamins and minerals and healthy fats. 
Also available in other flavours
Banana Cream, Cafe Latte, Spiced Apple, Mint & Chocolate, Summer Berries, Strawberry Delight, Cookie Crunch, Smooth Chocolate, Vanilla Cream
When made with 250 ml of semi-skimmed milk, one serving delivers:
216 kcal
18 g protein
4 g fibre
When made with 2 scoops of PDM Vegan and 300 ml water, one serving delivers:
201 kcal
24 g protein
5 g fibre
Directions for use:
Enjoy a Formula 1 shake every day as a nutritious meal. Gently shake the canister prior to each use as content may settle. To prepare a delicious shake, mix two scoops of powder (26 g) with 250 ml of cold, semi-skimmed milk (1.5 % fat). Or for a vegan friendly and naturally lactose free shake, mix two scoops of Formula 1(26 g) with two scoops of PDM Vegan (28 g) and 300 ml water.
Enjoy this product within a balanced and varied diet, as part of a healthy, active lifestyle.
References:
*F1 Limited Edition contains 26 vitamins and minerals when it is mixed with PDM Vegan and water or with semi-skimmed milk.
**For people following a calorie-controlled diet.