Formula 1 Limited Edition Protein Shake Yuzu Passionfruit 550 g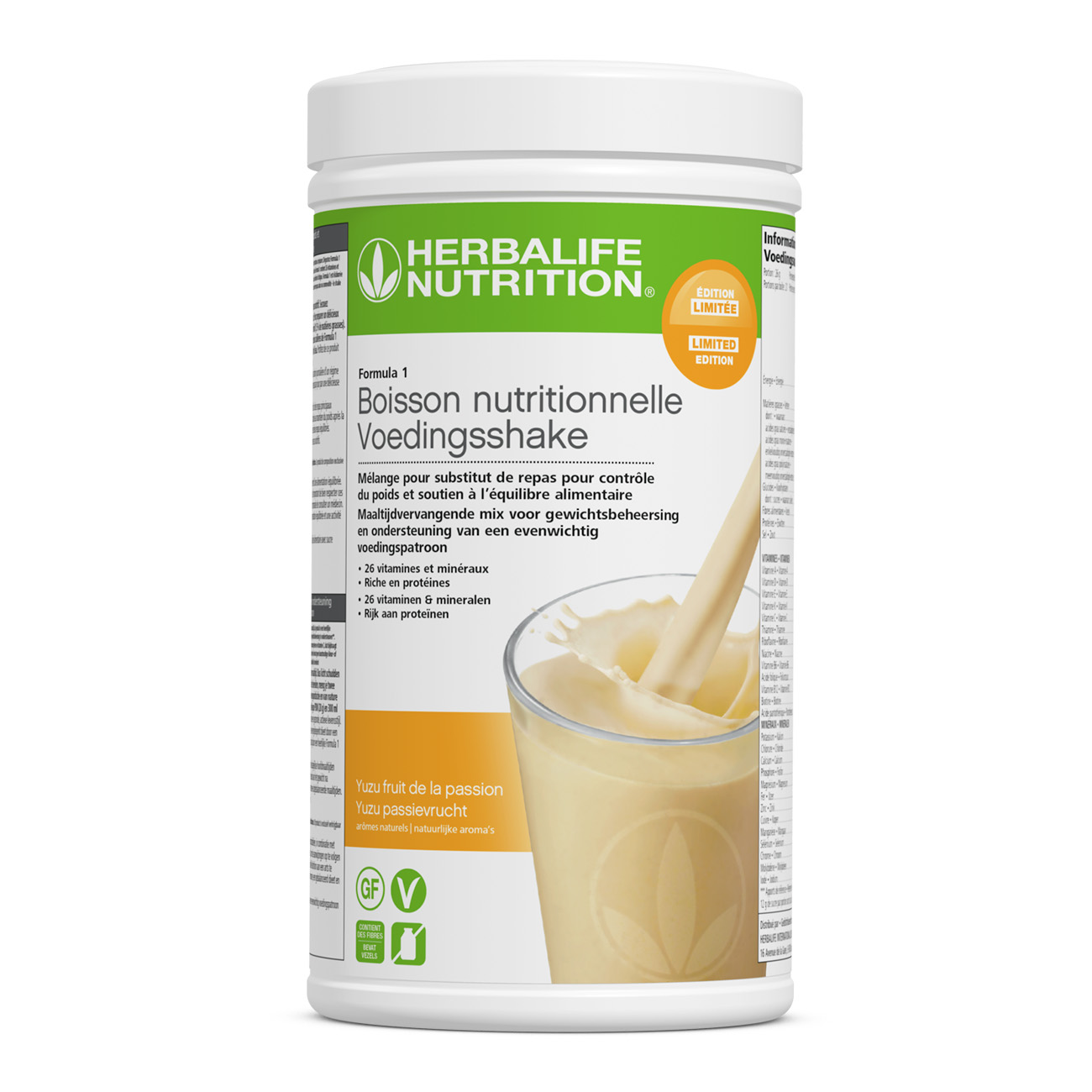 SKU 255K
Recommended Retail Price € 50.60
Product Overview
NEW Formula 1 Yuzu Passionfruit limited edition is a new summer addition to the Formula 1 family. Grab it before it's gone!
Our Formula 1 Shake is a healthy meal replacement you can have at breakfast, lunch or dinner. It's high in protein that supports the maintenance and growth of muscle mass, and it's balanced with key vitamins and minerals plus fats.
Key Features and Benefits:
High in protein
Made with high-quality soy protein, fibre and vitamins & minerals, Formula 1 offers both great nutrition and convenience
F1 Limited Edition Yuzu Passionfruit is a vegan friendly and a dairy-free shake whenever you prepare with fortified soy beverage or PDM Vegan and water
Provides at least 30% of your daily intake of 26* vitamins and minerals per serving 
Get the nutrients your body needs**, while staying committed to your preferences or diet requirements
Contains no artificial colours or flavourings
An exciting NEW limited edition flavour, Yuzu Passionfruit, once it's gone, it's gone! Don't miss out, order now.
Also available in other flavours
Banana Cream, Cafe Latte, Mint & Chocolate, Strawberry Delight, Cookie Crunch, Smooth Chocolate, Vanilla Cream
When made with 250 ml of semi-skimmed milk, one serving delivers:
216 kcal
18 g protein
4 g fibre
When made with 2 scoops of PDM Vegan and 300 ml water, one serving delivers:
201 kcal
24 g protein
5 g fibre
Directions for use:
Enjoy a Formula 1 shake every day as a nutritious meal. Gently shake the canister prior to each use as content may settle. To prepare a delicious shake, mix two scoops of powder (26 g) with 250 ml of cold, semi-skimmed milk (1.5 % fat). Or for a vegan friendly and naturally lactose free shake, mix two scoops of Formula 1(26 g) with two scoops of PDM Vegan (28 g) and 300 ml water.
Enjoy this product within a balanced and varied diet, as part of a healthy, active lifestyle.
References:
* F1 Limited Edition contains 26 vitamins and minerals when it is mixed with PDM Vegan and water or with semi-skimmed milk.
** For people following a calorie-controlled diet.